DC Restaurants offering Passover Seder
Passover is fast approaching and many families across the nation begin to plan their Seder feasts, make travel plans to see their loved ones, brainstorm where to hide the afikoman, while others look to see what's on the menu at some of D.C.'s best restaurants. Although most certified kosher establishments close for the holiday, a few DC area restaurants are hosting Seder and Passover fare with both traditional and very eclectic dishes.
In DC
Hudson Restaurant Owner, Alan Popopsky, formerly of Felix, started a craze in 1998 when he introduced his mom's recipes for matzah ball soup and brisket onto the menu at Felix. Felix has since closed, but his Passover fare in his new West End neighborhood (2030 M St.) restaurant lives on.
Hudson is offering an exquisite Passover Menu Friday, April 6th and Saturday, April 7th, including his famous matzah ball soup. Popovsky continues the tradition with potato latkes, house made Gelfite fish, and chopped liver for Passover. Many certified kosher establishments close for the holiday, but Hudson invites you to join us for both traditional fare and some eclectic dishes. Main courses include roast half chicken, braised brisket, roast leg of lamb, and grilled Atlantic salmon. Menu prices are extremely reasonable, appetizers ranging from $7-$11, entrees from $23-$30. Just the fact that you don't have to clean up the mess from the meal makes this dinner all worth while.
Reservations can be made via opentable.com.
Dino in Cleveland Park, DC is offering a four-course prix fixe menu ($59; $25, children) served Friday, April 6 thru Friday, April 13. This special dinner will include dishes from both Ashkenazi and Sehpardic traditions. Some dishes will include chopped chicken liver, haroset, matzo ball chicken soup, gefilte fish, mina pies made with matzo and eggplant or lamb and almond-meal cake. Dino suggests that you bring your own Haggaddah. Full Menu & Details
Casa Nonna Italian Cucina will celebrate Passover with unique Italian-style Passover dishes available from April 6th through 14th. Chef Amy Brandwein has crafted exceptional menu items such as the Muggine in Bianco, a traditionalGelfite Fish in Saffron Gelatina, with an Aioli made from the seasonal favorite, the ramp and Chive Blossoms. The Sflogiatelle Pasta is made with matza flour, egg and olive oil. The pasta is rolled into thin sheets, known in Italy as Sfoglia, and baked in the pizza oven at 600 degrees until crisp. The pasta is unleavened, broken by hand and cooked. Nonna's famed Pizza Bar will serve as a pizza station, featuring a number of unleavened Matzah Pizzas, with a variety of toppings.

All items on Casa Nonna's Passover Menu are offered ala carte and as a Tasting Menu for $40. The Passover Menu is available April 6th through the 14th. Guests can make reservations by calling 202.629.2505.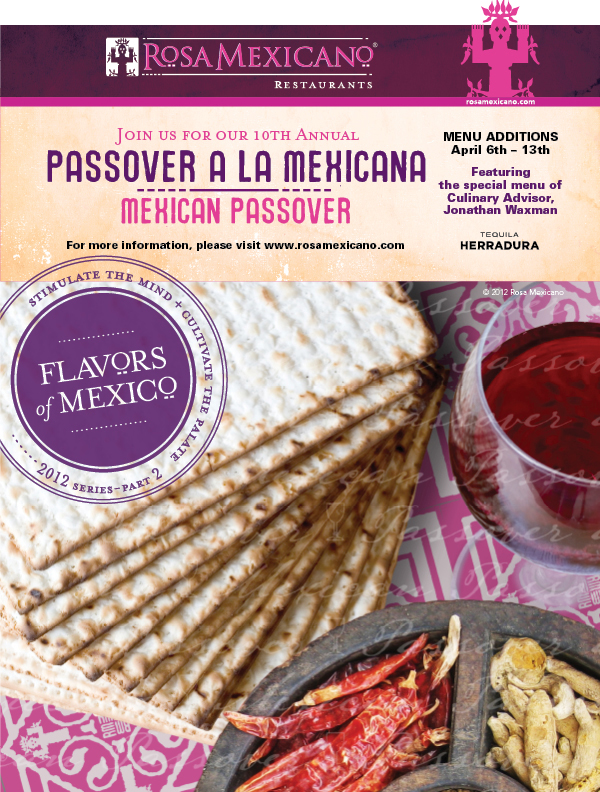 Finally, Rosa Mexicano (575 7th St., NW) spices up Passover with a Mexican flair again this year. Their 10th annual Passover a la Mexicana menu is Available April 6-13th, the specials will be available for lunch and dinner. This is not your Bubby's haroset! Enjoy their tropical take with a blend of dates, tangerines, and coconut. Main course offerings include, Chicken Breast and Brisket. Don't forget dessert, with a delicious date and lemon flourless cake.
In MD
Tragara Ristorante (Northern Italian) in Bethesda does a "Passover style" menu, a tradition of theirs for over 20 years. Distinguished Parisian Chef, Michel Laudier, formerly Chef of Rive Gauche in Georgetown offers his unique talent to this occasion. This traditional menu offered April 6-13, is prepared kosher style without any chometz. The menu offers traditional appetizers such as, Homemade gefilte fish with fresh horseradish and matzo ball chicken soup, each for $6.95. There are a range of Entrees offered including Grilled salmon on a bed of zucchini with saffron sauce for $25.95 and Veal chop sauteed with wine and rosemary for $39.95. Desserts offerings include Warm chocolate cake, coconut sorbet in caramel sauce, Passover roulade with strawberries, whipped cream, sabra liquor, and Haroset ice cream in a meringue shell with honey caramel sauce.
If you're looking for take-out options, Balducci's, Whole Foods, River Falls Market and Dean & Deluca offer Passover dishes that can be ordered in advance. D.C.'s Brookville Market, Shaul's of Silver Spring, Wegman's, Rockville's Koshermart and gefilte fish from Costco
Also Interesting exhibit: On display until December 30, 2012, the Chosen Food: Cuisine, Culture, and American Jewish Identity exhibition at the Jewish Museum of Maryland examines the history of Jewish culture in America through food and culinary traditions. The exhibition and accompanying website (www.chosenfood.org) are supported by grants from the National Endowment for the Humanities.